Posted by : KPopRanter
August 21, 2013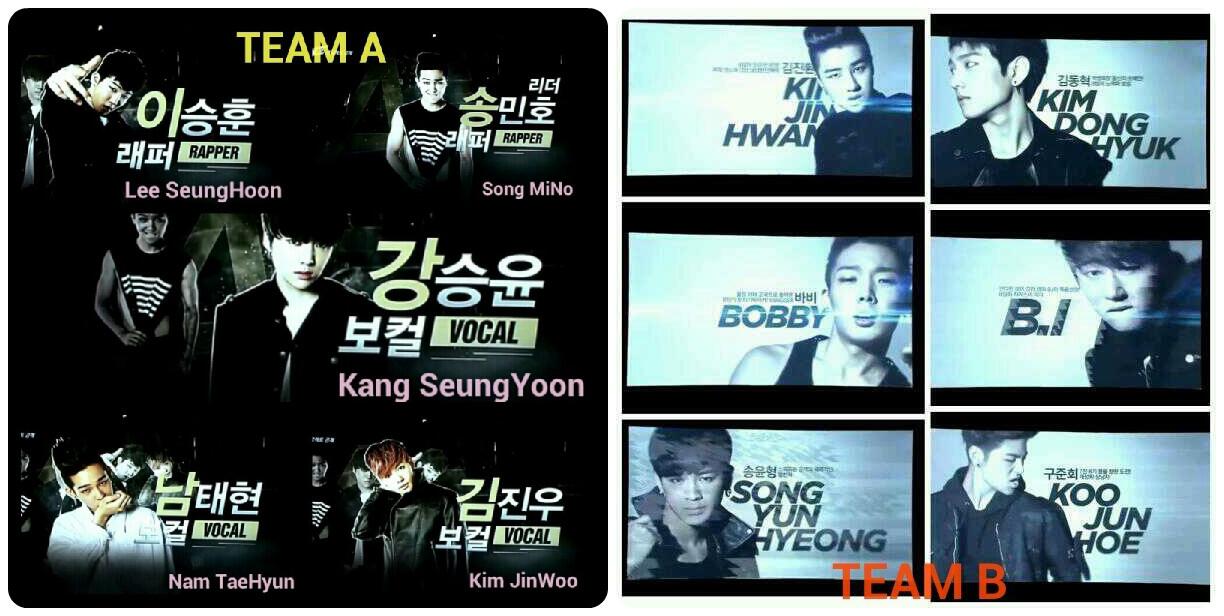 The show that's all the craze around the interweb, YG's survival program, WIN, is definitely going to be a show that I tune into weekly and watch adamantly, wanting to get to know YG's newest trainees and actually get to see Who Is Next on YG's debut roster. Releasing a preview prior to the official release of the show, YG Entertainment showed the two competing teams Team A and Team B as well as special guests 2NE1, Big Bang, Park Jinyoung of JYP Entertainment, PSY, Yoon Jong Shin and of course, Yang Hyun Suk, all revealing many feelings and thoughts towards the show. YG Entertainment also showed the already "celebrity" members who are featured in each of the groups, and as mentioned in a previous post, are Kang Seung Yoon

(vocalist)

and Lee Seung Hoon

(rapper)

on Team A while B.I (rapper) and Goo Joon Hee (vocalist) are on Team B. The rest of the members (non-celebrity) are as follows: Team A has Jin Woo (vocalist), a guy who has been training in YG Entertainment for such a long time that this program is revealed to be his last chance if they lose, Taehyun (vocalist) and Mino (rapper) while the revealed members on Team B are Jinhwan (vocalist), Bobby (rapper), Donghyeok (vocalist) and Yoonhyeong (vocalist).
Warning: Spoilers start here
The introduction
It finally started to kick off during the 7 minute 50 second mark, all eleven hopefuls going into YG Entertainment's sacred practice room then Yang Hyun Suk walking in and causing suspense like he usually does. He then issued for Team A to step forward and they began their first vocal performance to Trey Songz's Heart Attack, an unknown song then followed with a dance to Vybz Kartel's Double Down. Without even a single commentary or even... sign of emotion from the CEO, Team B appeared and performed in the same layout--English vocals, Korean vocals then dancing--Rihanna's Hard being first on the list for a vocal cover then some a Korean song, finished by Drake's The Motto dance cover. Respectfully, when both teams were performing, the other team seemed as if they were enjoying the performances, nodding to the beat when really, I could sense their nervousness.
Finally finishing the performances, all eleven members stood tall and still next to each other as Yang Hyun Suk gave a big bad lecture, explaining the 'tell-me-something-I-don't-know' details by giving an entrance for the show and explaining to the audience and the men that only one team was set for debut. For an odd reason, I saw sympathy in their expressions close-ups in their faces at this point, wishing they could all just debut together in an SM Entertainment-like fashion however, knowing that life wasn't always so fair.
Settling into the Show
The boys left in vans, somewhat venting their frustrations towards the unknown future however, going along with it anyway, the next scene slipping to Team B's practice room shot, past videos of the Team B's G-Dragon 2.0, B.I as well as G-Dragon himself giving insightful commentary towards the kid. Giving sympathy and a reason to vote for both teams, YG put some sad scenes of already mentioned member Jinwoo, saying it's his last chance if WIN Team A doesn't debut (right in the heart, YG. I'm actually sympathizing this dude while he had tears in his eyes as well as B.I who's on Team B... the fuck?) as well as giving a short acoustic then studio-sounding cover of As Long As You Love Me. This dude's random boat sympathy really got to me, his dad appearing and him sheepishly crying and saying I won't cry really giving me a reason to stab YG in the throat for doing this to the poor kid... the show ending with small comments from members of both Team A and Team B and leaving me speechless.
To Sum it Up
All-in-all, despite the previous suspicions that this was an unfair grouping--Kang Seung Yoon and Lee Seung Hoon both on one team, giving the A team an advantage, after watching and feeling sympathy for both teams at different points, I feel as if they're coming on an equal playing field--this being more of a game of 'Who's sob story is the saddest' rather than 'Who'll be the best artist' and actually leaving me, the emotionless and most evil person ever in tears. I'm actually anticipating the show, their talent being pretty apparent and for me, their visuals not lacking that much either, this looking like a pleasing experience and an emotion-filled roller-coaster .. mostly because I, as well as others, want to see what happens at the end and who is crowned the Winner.
Like our stuff? Follow us on
Twitter
and
Facebook
!