Posted by : KPopRanter
October 04, 2013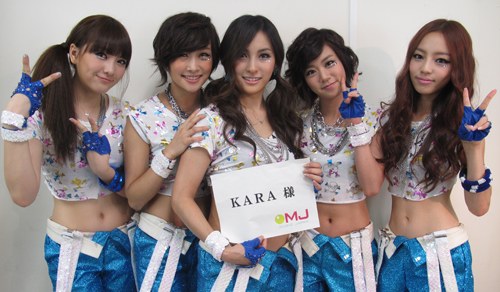 The only female group to have conquered Japan in such an extremely
high level, KARA, is now setting sail towards a new path: disbandment.
As translated by allkpop, the member Nicole was revealed
by DSP Media that she will not renew her contract when it expires and
the lacking aegyo member, Jiyoung, is still in decision on whether she
should focus on her studies or stay in the group. Other members are
said to have renewed their contracts for yet another two years however, the
question whether they'll promote as a three to four member group or
replace Nicole with another person as they did Goo Hara back when KARA
was irrelevant still remains.
-
Only a few weeks ago, there was an
article
about whether
Girls' Generation, Wonder Girls and KARA will renew their contracts,
everyone being "so positive" KARA had a high chance of all of them
renewing theirs and now look what happened.
You guys dun fucked.
But on another note, it seems like the time is somewhat right for KARA
disbandment, them having a Radio Star scandal recently
and being labelled as the third part of the
Big 3... Ra's. Hopefully, being that
Nicole was among the two KARA-lites who weren't involved in the bottle
throwing, lack of caring for Park Jinyoung, disrespecting senior
madness, she can get out unscathed like
Hwayoung and Ahreum did and without a storm of shit as she goes on with her apparent solo career without DSP Media.
But
This just brings you to realize that soon, every group will in fact
disband. Whether you're a regional superstar like
Girls' Generation, a former
success story like Wonder Girls'
or a group of Jeremy Scott
victims, 2NE1. It's inevitable and
frankly, they're all getting too old to keep their rank. It's going to
soon si
mmer down until there's no one left.
KARA's done and they dun' fucked! What's
your take on this news? Comment below!