The Future of Idol Groups: Girls Generation Edition
Posted by : KPopRanter
June 10, 2013
Yesterday, I've basically encountered two signs from the heavens to create this post, a friend asking me to write posts about idols in the future and me seeing a comment on netizenbuzz that basically just called to me to write an article about Girls Generation's in particular.
8. [+100, -23] It's a worry since all of the kids need to find a career path for themselves but everyone failed their drama attempts last year. It was only that unit with the kids who can sing that fared favorably ㅋㅋ Aside from Yoona and Taeyeon, I fear for all of their futures.
So without further adieu, I present you with
my prediction of Girls' Generation's individual and group future chances of staying in the spotlight ordered
from
least
to
greatest
chance.
Hyoyeon has nothing going for her in her future. I feel bad because Hyoyeon is actually one of my biases in the group. She can dance the best in Girls Generation however, she's always placed in the back during music videos, given the least amount of lines and sometimes, not even getting a dance solo. And what's funny to be is how people always say that Hyoyeon should leave Girls' Generation and go solo, but I always think to myself, as what? A solo singer? She has the worst vocals in the group. A solo dancer? I haven't heard of one that actually stayed in the public eye. An actress? She still has left to debut in acting let alone prove that she can act well. And though there's a rumor going around that
Hyoyeon is in a relationship
as well as her saying that
she wants to get married quickly
and settle down, if she ever changed her mind and decided to pursue staying in the spotlight for longer, she's stuck at a dead end. I think the only thing that she can choose is the be a Korean gagwoman like Jung Juri.
Sunny
is stuck at a dead-end, too however,
unlike Hyoyeon, she's not the best at
anything
.
She can sing, but someone can sing better. She can dance, but someone can dance better. I haven't seen her act before and to be honest, Sunny has a 'cute' concept tied down to her which will limit her from elongating her career. I mean, how long can she keep doing aegyo before either everyone gets tired of it or she gets too old and wrinkly for it to be cute anymore?
Seohyun
can sing... but let's be honest, it's not the best in the group. And even then, Seohyun just kind of makes you cringe when you watch her. On her live performances, she looks awkward, on her music videos, she looks awkward... I don't think it's possible for Seohyun to perform without looking awkward. Even if she tried acting and debuted, I wouldn't expect that to work either unless she loosens up.
Next is Sooyoung, and unlike the previous 3, she at least has something that might keep her afloat. Her acting... but she's not that great at it. Of course, there's years and years before and even after Girls' Generation separates for her to continue to better her acting however, if we're just looking at her current level of acting, I wouldn't say that it can prosper that far. And with that aside, her actual idol-related talents face struggles similar to that of Sunny's. She can sing, but someone can sing better. She can dance, but someone can dance better... and unless she chooses acting, she's done for.
After Sooyoung is
Yuri
, the black pearl of the group. Like
Sooyoung, she has her acting that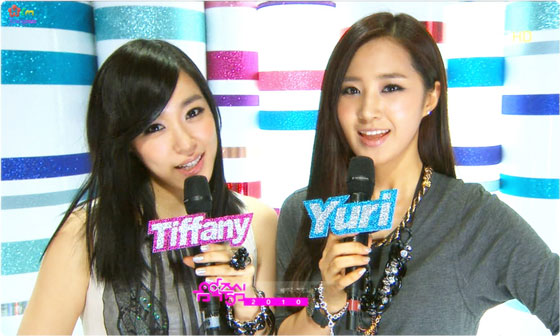 she can use in the future however, isn't that great at it, calling the need for years and years to better her acting. Likewise, her singing is
at most
average and wouldn't enable her to pursue a singing career while her dancing is pretty good however, not actually considered an outstanding and notable solo career.
Tiffany, oh Tiffany. Tiffany, my girl, I love you but you don't have what it takes either. Your singing is pretty acceptable and you proved that you can take on a crowd with your stage presence especially watching Seohyun and Taeyeon who looked pretty awkward in this Twinkle performance while you shined but eh, I think SNSD... or at least someone else along side you like in TaeTiSeo, would keep you relevant. I remember watching your Rolling in the Deep cover and Call Me Maybe and just not feeling the same as I felt when I watched I Got a Boy or Lost in Love. Not to mention, the more I see you, the more you look like my other love, Park Bom. I think the only way you could keep your singing career afloat is if you bettered your singing technique and were still appealing to the eyes even in 5 to 10 years... meaning you have to stop whatever you're doing to yourself right now.
Tiffany singing Rolling in the Deep
Taeyeon is next and after Jessica which may surprise most people.
Taeyeon is undoubtedly the best vocalist in SNSD and has the largest fanbase however, there's two things that I really have to point out.
1.
She has the possibly the second to least stage presence in the group next to Seohyun. In fact, sometimes when you watch her lives her facial expressions like in the Twinkle performance mentioned above, she looks like she's either acting but hardly trying or just uncomfortable. I mean, at least Seohyun tries to act like she's having fun but still looks awkward... Taeyeon just looks like she's not having fun and still looks awkward.
2. And without stage presence, is Taeyeon
that
great at singing to keep her singing career afloat? I mean, Lee Hyori's singing is average at most but she can kill the stage... Taeyeon's singing is okay but she can't prove that she can take on a stage single-handedly. Also, Taeyeon even admitted herself
What I

can't

do, the other members can so they complete it. I think I'm more cut out for a group than a

solo

.
Jessica
is second to last after Taeyeon. Jessica is one of the best singers in Girls' Generation
and, she actually isn't half-bad at dancing if you watch her older videos... but she doesn't try at all. Yes, SONEs. I said it. She has gotten
lazy
. When you compare the Into the New World days to the I Got a Boy performances, you can see it's undeniable. I mean, she could probably have charisma on stage if she tried but it looks like she just doesn't even want to. And I don't even think it's the "Ice Princess" image. Her best bet is probably acting.
Lastly, Yoona has undoubtedly the best outcome for her future in the
group. She can sing average, she can dance average and she can act average... but because of her beauty, I wouldn't be surprised if her acting kept her fame intact.
In addition, I just wanted to add Girls Generation as a whole for kicks. Girls' Generation has been around for nearly long 7 years, starting back in 2007 with Into the New World, proving themselves with Gee in 2009 and now in 2013 being South Korea's top girl group. Though they're still going strong as of now, I don't think the strength will last for much longer (my guess is 2 years a most) because:
a) Look at all the long-lasting groups. SHINHWA lasted for 15 years. They're men. Super Junior lasted for 7 years. They're men. If you want to be die-hard-fangirl about it, TVXQ as 5? 9 years. They. are. men. The only groups I can think of that are females and lasted long were probably Jewelry (all of their original members were replaced and they're pretty unpopular now) and The Grace (locked up in SM Entertainment's dungeon. Haven't heard a comeback with all 4 of them in a while), The Grace being a powerful vocal group while Girls Generation on the other hand? Not really. If you still don't understand, look at b.
b) Even if they've been pushing a more mature look as seen in their previous comebacks, they're still fetishized by Korean men as the young, beautiful and perfect girl. Contradicting the young, what happens when the oldest member, Taeyeon is already in her mid-20's and the youngest member is now 22? For beautiful, as said before,what happens when members of the group like Tiffany are already starting to lose their girly sheen and beauty? And for perfect, what happens when girls like Hyoyeon, what happens when that perfect girl wants to settle down and start a family like Sunye did?
c) SM Entertainment.
It's as if
SM Entertainment
is already turning them into the next
Super Junior
, letting them reach the peek of their careers (right now) and when they stop charting so well and doing as good, they'll let them shrivel into the dirt to fend for themselves
. Although, SM Entertainment already knows SNSD has a large and strong fan base so they realize they can continue releasing songs that are just meh and people will just eat them up, they're already starting to see a downfall in results and open mouths after the release of I Got a Boy. Like, really, let's be realistic here... how long will the "Power of 9" last?