K-Drama Review: Thoughts On The Heirs
Posted by : Qiyu Hu
November 27, 2013
The Inheritors
, or
He Who Wishes To Wear the Crown, Endure Its Weight
, is currently airing weekly on
SBS and it's no doubt one of the most hyped drama of the year with a star-studded cast and a supposedly promising storyline. I've followed this drama religiously since episode 1 and here's my take on it, right up to episode 14. There aren't any spoilers and since this drama hasn't ended, this is just my thoughts and feelings about the episodes up till now.
For the benefit of those who hasn't heard about this drama yet, which probably means you've been living under a rock, here's the short synopsis of it, courtesy to Wikipedia.
"The series follows a group of privileged, rich, elite high school students as they are groomed to take over their families' business empires. These wealthy students seem to have everything under control, except their love lives. Kim Tan (
Lee Min Ho
) is the heir to the Empire Group sent to study abroad in the U.S. In reality it's a form of exile, as his elder half-brother back home (
Choi Jin-hyuk
) schemes to take over the family business. While in the States, Kim Tan bumps into Cha Eun Sang (
Park Shin Hye
), who has arrived from Korea in search of her older sister. He feels himself falling for her, never realizing that she's the daughter of his family's housekeeper. When his fiancée, Rachel Yoo (
Kim Ji Won
), arrives to bring him back to Korea, his heart is torn between love and duty. Meanwhile, Rachel's stepbrother and Kim Tan's former best friend, Choi Young Do (
Kim Woo-bin
) develops his own feelings for Cha Eun Sang. Kim Tan then realizes that he has developed his feelings for Eun Sang, and Young Do, at the same time."
For me, it's one of those "empty calories" drama. All the fun, cliche and eye candies with no substance whatsoever. I mean, I will follow the whole series but there's no way I will ever watch it again (unless someone compiles all the Kim Woobin parts for me, that is).
The reason I tuned in to this drama was because of Kim Woobin, and all the hype it has gotten long before the premiere. My friends couldn't stop talking about it. After the first episode, I was pretty much convinced that this was going to be Boys Over Flowers 2.0. I'm not expecting much from this drama, so I was not very disappointed with the first few episodes. But can I just say, Kim Tan's American friend and his traumatic English were pretty useless and could be been left out of the drama. And I'm not convinced by Lee Minho acting as a 18 year old again, because he clearly is way over the age to be acting as a high school student, as of most of the cast. But he seems to be most out of place after seeing him in various dramas as an adult.
Heirs continues weekly, with the slowest plot development imaginable. I can basically summarise the first ten episodes a few words: Kim Tan and Young Do fighting over our poor little Eun Sang with Love Is The Moment playing more than I'd like it to. It started to get slightly frustrating to watch a whole episode and realised nothing substantial actually happened. No plot movement, nada.
I think the problem with this drama is fundamentally the script. Most of the cast are good, solid actors who deliver convincing roles but the script is doing nothing for them. The scriptwriter,
Kim Eun Sook
who is a familiar name to us after
Secret Garden
and
The Gentleman's dignity
, has underutilized the actors she has and the way the characters are written is just not my cup of tea. Young Do is a borderline sociopath with little redeeming qualities, and I don't buy the "love will change his character" thing the drama is trying to sell. Kim Tan, the male hero is really nothing much but airy promises and Eun Sang is supposed to be independent and strong but most of the drama until now involves her being pushed and dragged harshly around by the two male leads and then she cries around 3 times in a single episode. Sometimes we get a glimpse of strong Eun Sang but for the most part, she's just weak and indecisive. Her character is actually so contradictory it's getting on my nerves and the feminist side of me is getting angry by the way she gets manhandled and yelled at by the male leads in almost every episode. The lead characters had so much potential to be so much more but all turned out flat and predictable. Finally, there are so many other supporting characters like Rachel and Kim Won that could be been so amazing but are simply wasted.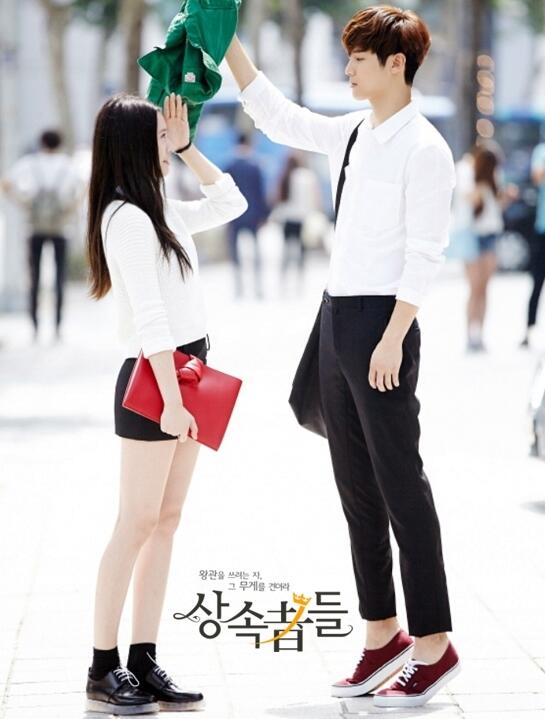 It's not like I don't enjoy watching this drama, because I do look forward to it every week, but every week I watch it with the feeling hoping for the show to get going, for
something
to happen and gets hopelessly disappointed by the end of an hour. And the cycle repeats.
There are, however, parts of the drama worth watching. Madame Han and Eun Sang's mother keep me entertained every episode and Chan Young and Bona are simply pure fluff that no one can resist. These two couples are pure, pure gold. And of course, Kim Woobin makes Young Do so much more loveable despite his terrible actions and personality. I'm so biased it hurts.
Heirs is slowly, but surely picking up its pace now that we're almost at the last 5 episodes. Backstories are being told, actual conflicts are happening and character growth is becoming more prominent.
As far as I am unimpressed with the plot, Heirs is still worth a watch. It's your usual Korean drama with a pinch of Gossip Girl and one of those dramas that are so bad that it's good. Nothing spectacular, occasionally frustrating but still an easy watch. And the wonderful cast should keep you interested till the very end.
Are you watching Heirs? What are your thoughts about it? Let us know in the comments below!
(credits: Wikipedia, Google images)