Posted by : cloudyday a
November 26, 2013
Welcome to the next edition of weekly wrap-up, better a day late then never! Another week has passed, and out of everything that happened this week, MAMA 2013 which took place in Hong Kong was the most prominent kpop feature for me. But of course, there were several notable kpop news / controversies arising back in Korea as well. Without further ado, here's bringing to you a wrap-up of the juicy bits of kpop that happened in the past week!
News of the Week - WGM Controversy
There were 2 controversies surrounding WGM, specifically the Taeun couple. Firstly, Naeun was believed to have cursed Taemin on the show, but this was later denied by representatives who said that it was not her, but a staff member ho cursed. Since her name is now cleared, all is well so may bygones be bygones.
The second controversy was what caught my attention - WGM was accused of being scripted. We've often heard of variety shows accused of being scripted, with shows such as Running Man being past victims. I personally feel that variety shows to some extent do need to be scripted. It is the script that holds the variety show together, establishing the grounds upon which the cast can build entertainment value upon, to attract viewers. I'm not a big fan of WGM, but I've seen how scripting has worked in Running Man, where guests are purposefully paired with the main cast by the PDs, and I do agree with the Running Man team for grouping them together, because their interactions and chemistry throughout the show as a team provided much entertainment worth for me. Humans are humans and not everyone clicks well with each other, so I don't blame it on the PDs for not letting the groupings be done randomly. Some examples of successful groupings including the Park Myungsoo, Kim Jong Kook and Haha trio in episode 168, and the Yoo Jaesuk and Girls' Day trio in episode 162. Ultimately, variety shows need to rake in the viewers ratings so there has to be some script to hold it all together.
However, it is different in the case of WGM, as the show was seemingly scripted line by line, and that is kind of over the top. It now potentially restricts character and relationship development, as the cast cannot make spontaneous puns/jokes which can be much funnier than preplanned ones.Personally, I feel that given the extent of the scripting, the situation is likely to not be this straightforward. (I mean, line by line, seriously?) Maybe the Taemin and Naeun couple isn't really working out and the production team has to take such measures to allow the show to proceed? No one knows, but I think that we should not slam a variety show for being scripted just because it is. It is too simplistic a way of looking at the entertainment world, which is a tough and extremely competitive one.
News of the Week - Loen Entertainment taking over Starship Entertainment
Loen Entertainment (home to IU, Sunny Hill, History, Fiestar, Zia) is revealed to be trying to buy over Starship Entertainment (home to Sistar, K. Will, Sistar, Boyfriend, Mad Clown). We'll see where this goes.
Event of the Week - MAMA 2013
Song / Video of the Week - Missing You by 2NE1
I find Missing You by 2NE1 to be really moving and heartwrenching. And I appreciate it even more because it's sung by 2NE1, where their rich voices can really give the song that added dimension it needs to arouse hearts. Do check out the review done on this song by Tiffany here.

Picture of the Week - Relive MBLAQ's Hello Baby
The stars of MBLAQ's Hello Baby (2012, 5th season of Hello Baby), Lauren, Leo and Dayoung, recently visited their dads backstage at their Seoul tour. It's truly great to see their ties lasting longer than scripted.
What to Look Forward To - EXO's Showtime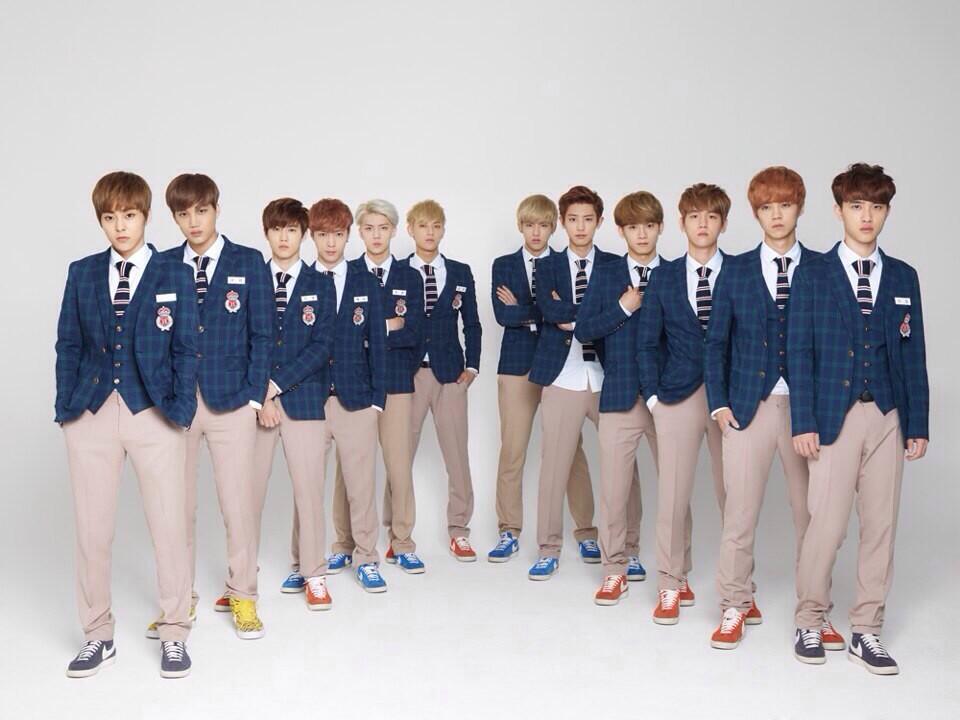 Photo Credits: https://twitter.com/EXO_SHOWTIME
EXO has been on active on variety and radio shows since debut, having been on Immortal Song, Weekly Idol, Sukira, Shim Shim Ta Pa and Volume Up to name a few. For the first time, they'll be having their first solo variert show, EXO's Showtime with member Chanyeol as MC. What will you get when you put 12 good-looking boys of diverse personalities (some talkative, quiet, clumsy, quirky, childish, playful, adorable etc) on a variety show? We'll find out soon - EXO's showtime will air on MBC's every1, starting Nov 28.
What to Look Forward To - Hyorin's Solo Debut
Hyorin (the diva, leader and vocal prowess of Sistar) will finally be making her solo debut. Teasers for title track Lonely have been released and they definitely do look promising, with her husky vocals shining through! Her album is slated to be released this week so do keep all eyes on her.
Cover Photo Credits: http://www.wonderfulgeneration.net/2013/11/fx-krystal-marie-claire-december-2013-pictures.html